It's no secret we love to laugh. Everyone enjoys a good chuckle and apparently we should all be doing a lot more of it. According to the Mayo Clinic, laughter increases your oxygen intake, as well as stimulating the heart and lungs and causing your brain to release more precious endorphins. A good guffaw also helps relieve stress and tension, resulting in a nice cool, soothing mood, as well as being beneficial for your immune system.
As such, we love a good comedy movie and clearly — given how many different subgenres there are in the world of comedy — so do a lot of other people. Dark comedies are fun when we want our funny bone tickled and per haps a bit of schadenfreude. Slapstick comedy is great for keeping things silly and fun. You can't go wrong with a good satire to satisfy the need for laughter and irony at the same time. But one of our favorite types of funny film is a good sports comedy.
Sports comedies are not always super accurate in how they present the respective game, given that they serve simply as the backdrop for telling a greater story, though some do focus hardcore on the sport at hand. Some sports movies get things wrong about their sport on an egregious level, though sometimes that makes them even funnier. With that in mind, we present the 20 best sports comedy movies we can come up with, in no particular order, because just like these movies, we're not super serious about keeping score and are just here for a laugh.
Happy Gilmore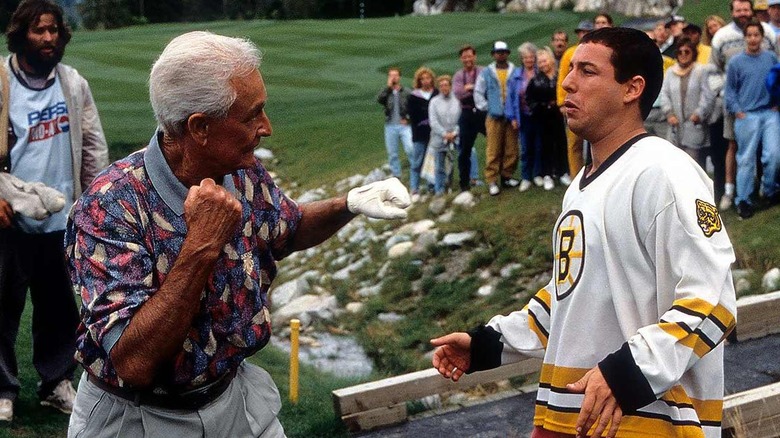 Universal Pictures
Oh, "Happy Gilmore." Combining peak-'90s Adam Sandler hijinks with the counter-intuitive idea that the player with the lowest score is the winner, this ridiculous golf send-up tells the tale of the title character's journey from being a joke of a hockey player to being the top player on the links. It all happens when his grandmother's (Frances Bay) house is seized by the IRS for back taxes; if he can't come up with a way to make $270,000 by the deadline, her home will be put up for auction. He takes a bet that he can hit a ball further than one of the movers hired to empty out the house in order to get them to finish working, only to find he can drive the ball a ridiculous distance with an equally ridiculous stance and approach, owing to his one hockey asset: a powerful slapshot.
His incredible power impresses new mentor Chubbs Peterson (Carl Weathers), who helps him land a spot on the pro golfer's tour. His impressive drives and newfound popularity the draws the envy and ire of rival Shooter McGavin (Christopher McDonald), while his antics and larger than life personality keeps public relations director and love interest Virginia Venit (Julie Bowen) plenty busy.
"Happy Gilmore" has remained a favorite for years due to the title characters hilarious antics and the idea of inserting a boorish everyman into a sport with such grace and etiquette that can come off a little stuffy. Well, that and seeing former "The Price is Right" host Bob Barker beat the crap out of Happy after his poor showing at a celebrity pro-am tournament.
The Replacements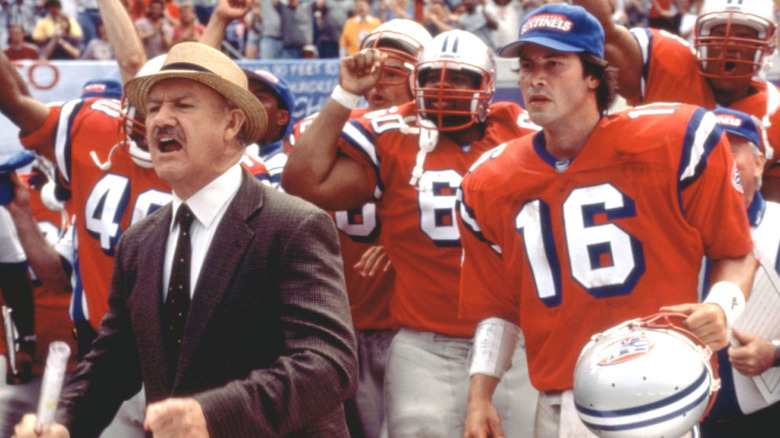 Warner Bros. Pictures
If we were rank-ordering these 20 sports comedies in descending order, there's no way you'd be reading about "The Replacements" this soon; we're just super stoked to talk about it. The premise is simple: the players of a fictional football league decide to strike in the middle of the season. Rather than abandon the remaining games, team owners bring in replacement players to finish out the season. The new quarterback of the Washington Sentinels is formerly promising signal-caller Shane Falco (Keanu Reeves), a talented college player who had a disastrous showing at the 1996 Sugar Bowl and a short-lived professional career afterward. He's brought in by coach Jimmy McGinty (Gene Hackman) to lead a ragtag squad of nobodies on the gridiron and he does a damn fine job of it, eventually. Of course, when team owner Ed O'Neil (Jack Warden) insists that picket-line-crossing QB Eddie Martel (Brett Cullen) play the final game of the season, things get tense.
In addition to the solid cast of "The Replacements," the film has a lot going for it, from smart, funny writing, insane quotability, and a real-life situation — the 1987 NFL strike — from which to draw. Per ESPN, the Washington Redskins even picked up a quarterback on work furlough from prison and, just like in the movie, the final replacement game was contested between Washington and Dallas.
Allstate, sponsor of the Sugar Bowl, recently published a fictional article on Falco's accomplishments in the film and continued the story for multiple characters in "The Replacements." Notably, deaf tight end Brian Murphy (David Denman) went on to become a member of the hall of fame as one of the greatest tight ends in football history.
Bull Durham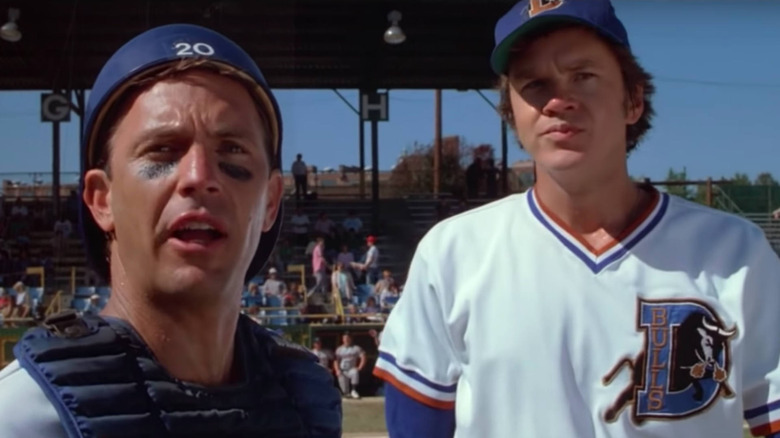 Orion Pictures
The 1998 classic baseball rom-com "Bull Durham" is pretty much required viewing for any fan of sports comedies. It stars Kevin Costner as Lawrence "Crash" Davis, a veteran catcher sent to mentor the Durham Bulls' rookie ace pitcher, Ebby Calvin "Nuke" Laloosh (Tim Robbins), in the hopes that his wisdom can help get the prospect's pitching under control and he can groom the greenhorn hurler for doing interviews and other non-game stuff. Crash gets some unexpected help in the form of Annie Savoy (Susan Sarandon), a baseball groupie who picks a Durham player every season to be her lover and to learn from her; this season, that's Nuke. As the fiery youngster gets a handle on his game, however, the tension and chemistry between Crash and Annie become incredibly apparent, as does Nuke's immaturity as a lover.
"Bull Durham" works so well for a lot of reasons. Costner was cast due to his natural athleticism as a former high school baseball player, according to writer-director Ron Shelton. He told Entertainment Weekly that Costner actually managed to crack two legit home runs on film. Shelton himself was nominated for the Academy Award for Best Original Screenplay.
Beloved as it is, "Bull Durham" was at the center of a controversy, though not for the film's content itself. In 2003, National Baseball Hall of Fame president Dale Petroskey canceled an event celebrating the film's 15th anniversary; openly anti-war couple Robbins and Sarandon were scheduled to appear and speak at the event and he feared they would use the opportunity to speak out against President George W. Bush's administration. According to the Midland Daily News, he canceled the event without speaking to either actor.
Slap Shot
Universal Pictures
Another perennial contender in the realm of sports comedies is the Paul Newman hockey classic "Slap Shot." The late screen legend and philanthropist plays grizzled veteran player-coach Reg Dunlop, whose minor league hockey team, the Charlestown Chiefs, are something of a joke, bemoaned by fans. After he learns ownership is likely going to dismantle the team — owing to the closure of the local sawmill and flagging attendance even beforehand — he concocts a scheme to build interest in the club to avoid such a fate, using the grit and tenacity of the newly acquired trio of players, the Hanson brothers, to turn his squad into a roster of tough guys. Either reluctantly or with great enthusiasm, Dunlop gets all of the Chiefs players onboard with the on-ice goonery except star player Ned Braden (Michael Ontkean), whom he manipulates by exploiting his troubled marriage. Braden convinces him to drop the shenanigans before a game with rival Syracuse, which has recently been stocked with the hockey goon version of the United States' Dream Team men's basketball squad.
Despite all the laughs, there are plenty of aspects of "Slap Shot" that have aged poorly, notably its characters use of homophobic slurs and their attitudes toward women. While those behaviors were, perhaps, socially normalized in the late 1970s when the film was made, they would be rightfully frowned upon by modern audiences, regardless of the fact that it presents a realistic portrayal of the locker room culture in professional hockey in the not-too-distant past. Nevertheless, the Hanson Brothers remain a fixture in hockey culture, owing to their ridiculous antics in the film.
Cool Runnings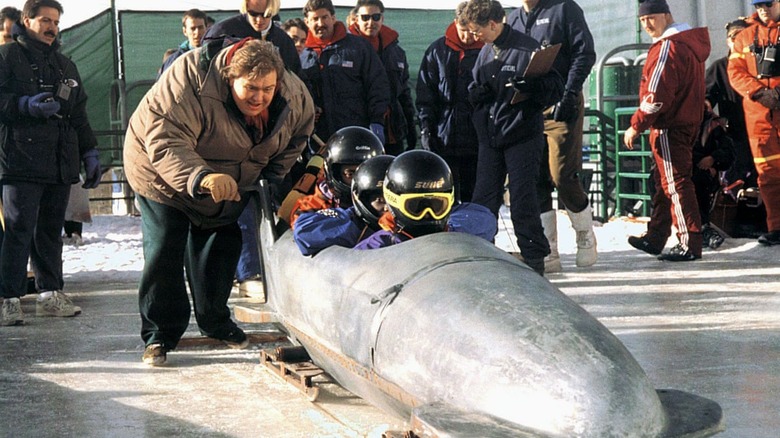 Buena Vista Pictures
"Feel the rhythm! Feel the rhyme. Get on up! It's bobsled time! Cool Runnings!" If you've seen "Cool Runnings," you know this infectious chant and probably recited it in your head as you read the words on screen. If you haven't seen "Cool Runnings," go watch "Cool Runnings." The 1993 sports comedy tells a fictionalized version of the real-life Jamaican bobsled team — as in a group of Winter Olympics competitors from the small, Caribbean island nation where winter temperatures are still around 86 degrees Fahrenheit. When a mishaps in trials costs Jamaican sprinter Derice Bannock (Leon Robinson) a shot at the 1988 Summer Olympics, he recruits the man who accidentally tripped him, Junior Bevil (Rawle D. Lewis), and the other casualty of the fall, Yul Brenner (Malik Yoba), to join his team, along with his best friend, Sanka Coffie, aiming to compete at the 1988 Winter Olympics in Calgary, Alberta, Canada. All he needs next is a coach — which he finds in disgraced former American bobsledder Irving "Irv" Blitzer (John Candy) — and an actual bobsled, which comes along later and is dubbed "Cool Runnings."
The film is loosely based on the real-life Jamaican bobsleigh team — the formal spelling — that debuted at Calgary in '88. While the basic premise of the film — a four-man bobsleigh team from Jamaica competing in the '88 Olympics, coached by a former American competitor — is true, the names and backgrounds of the film's central characters were changed. In truth, the idea of a Jamaican bobsleigh team was popular both at home and at the event, rather than being initially derided on both fronts, after being conceived by American businessmen George Fitch and William Maloney, according to jamaicabobsleighteam.com (via archive.org).
The Longest Yard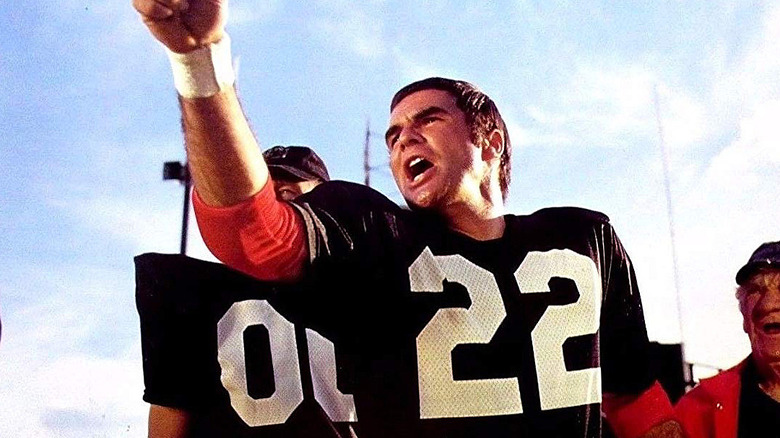 Paramount Pictures
Classic football comedy "The Longest Yard" is such a revered sports comedy movie that Hollywood felt the need to remake it in 2005 with Adam Sandler in the lead role of Paul "Wrecking" Crewe, a character portrayed by Burt Reynolds in the original. His character, a disgraced former pro football quarterback, is sent to prison for low-key stealing his girlfriend's car after having been kicked out of the league for point shaving. Prison warden Rudolph Hazen (Eddie Albert) happens to be a big football fan, so he's got a favor to ask of Crewe. He's not looking for an autograph, mind you, and selfies weren't a thing back then; the good warden manages a football team comprised of prison guards and wants the former QB to mentor his team. With the help of James "Caretaker" Farrell (James Hampton), Crewe puts together a team of inmates to take on the guards — led by captain Wilhelm Knauer (Ed Lauter) — in an exhibition game. When it comes time for the big game, the warden blackmails Crewe into sabotaging the inmates' team, intentionally blowing plays so that the guards will win, which is exactly what got him banned from pro football in the first place.
"The Longest Yard" came out two years after Reynolds' breakthrough performance in 1972's "Deliverance" and is one of the crown jewels in his filmography. The year before "The Longest Yard," he made his debut as another outlaw character, Bobby "Gator" McCluskey, a moonshine runner in "White Lightning." Three years after, in 1977, came another iconic role as Bo Darville in "Smokey and the Bandit."
Dodgeball: A True Underdog Story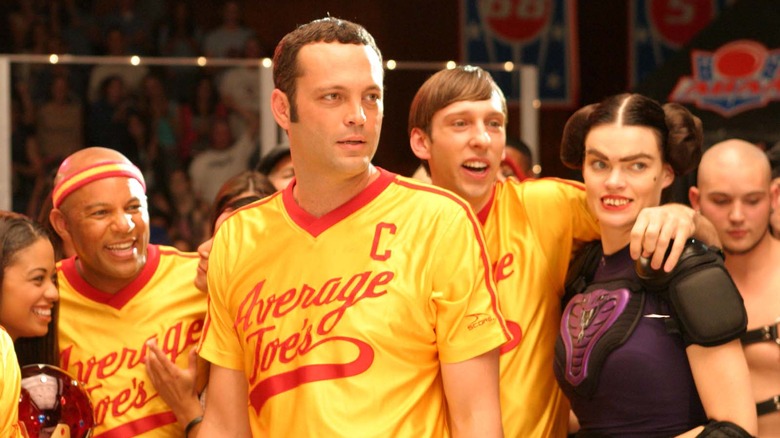 20th Century Fox
"Dodgeball: A True Underdog Story" is as fun and lighthearted as the sport itself most of us remember from childhood phys. ed. classes. Led by Vince Vaughn in the role of Peter LaFleur and Ben Stiller as White Goodman, "Dodgeball" features an ensemble cast that's as talented as its premise is inane. Peter is the owner of the sad-sack establishment Average Joe's gymnasium, a rundown place where a motley group of castoffs get their sweat on, the financials of which are in as-bad shape as the equipment — and a good number of its members. Bank lawyer Kate Veatch (Christine Taylor) comes along to assess how bad things are as White — owner of the fascistic exercise conglomerate Globo Gym — plans to buy the site to level it for a new parking structure. But if Peter and his gang of misfits can win the dodgeball tournament in Las Vegas, they'll be able to raise the $50,000 needed to avoid foreclosure.
Regardless of the silliness of its central conceit, every member of the cast of "Dodgeball" turned in a great performance. Justin Long is credible in his turn as Justin Redman, a nerdy and insecure wannabe male cheerleader. Stephen Root's lovable-loser character Gordon Pibb — who has the brilliant dodgeball idea in the first place — and Alan Tudyk's pseudo-cosplaying Steve the Pirate also lend amazing comedic support, with Jason Bateman's dudebro announcer Pepper Brooks stealing the show and spawning many an enduring quote. With hilarious cameos from Chuck Norris, David Hasselhoff, and Lance Armstrong, the talent who appeared in "Dodgeball" could have made pretty much any ridiculous movie into a modern sports comedy classic.
Caddyshack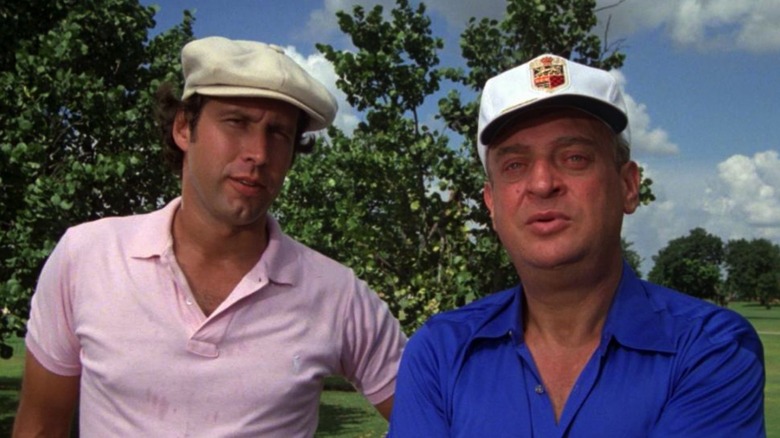 Orion Pictures
Classic golf comedy "Caddyshack" follows the misadventures of the members of the prestigious and private Bushwood Country Club — in addition to its employees. The loud and slightly obnoxious but charming Al Czervik (Rodney Dangerfield) begins playing at the club and his antics upset some of the regulars, including co-founder Judge Elihu Smails (Ted Knight), the club's co-founder and head of its caddie scholarship program. Danny Noonan (Michael O'Keefe), a caddy who works at the club, hopes to ingratiate himself to Smails while chaotic-neutral member Ty Webb (Chevy Chase) helps stir the pot. Things come to a head between Czervik and Smails, resulting in a team golf competition and a hefty wager between the warring parties, and all the while the hilariously inept groundskeeper Carl Spackler (Bill Murray) attempts to kill a gopher that's damaging the terrain at the golf course.
"Caddyshack" has remained a popular sports comedy movie in the 40 years since its release owing to several factors. There are elements of class warfare in the clash between the free-spirited Czervik and the stuffy mentality of Smails. The narrative of "Caddyshack" is very much an underdog story, one in which we see the little guy — who, mind you, is still rich — triumph over the establishment and bourgeois properness, with a bit of help from one of the have-nots. Much of the film's enduring success can be traced back to the comedic stylings of its cast; Chase's deadpan delivery, Murray's exaggerated slapstick and physical humor, and Dangerfield's famous wise-cracking one-liner style of humor.
Major League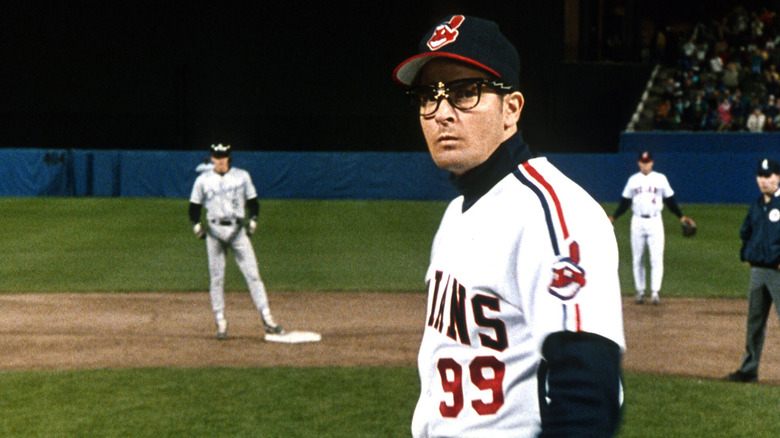 Paramount Pictures
"Major League" is yet another underdog story in which a rag-tag group of misfits comes together to beat the odds and excel. Unlike most sports comedies, it doesn't bother to create a fictional sports league for its players to inhabit; while many films of the genre create a parodic version of existing sports bodies to mimic, "Major League" is about a fictionalized version of Major League Baseball's Cleveland Indians. With an owner bent on tanking the team so she can relocate it, manager Lou Brown (James Gammon) tries to bring the low-rent athletes with which she stocks the team together to win out of spite. That means getting aging catcher Jake Taylor (Tom Berenger) to help him chill out power-throwing, recently paroled pitcher Rick Vaughn (Charlie Sheen). It means having to throw cold water on the growing feud between Vaughn and smug veteran short stop Roger Dorn (Corbin Bernsen). It means convincing hard-hitting home run machine Pedro Cerrano (Dennis Haysbert) to stop practicing voodoo rituals in the clubhouse and making full use of the fast feet of Willy Mays Hayes (Wesley Snipes) to steal bases.
For added authenticity, "Major League" featured former professional baseball player and long-time Milwaukee Brewers broadcaster Bob Uecker in the role of Cleveland radio announcer Harry Doyle. The film spawned two sequels, though neither replicated the success of the original. Notably, Omar Epps replaced Wesley Snipes in "Major League 2"; the first movie gave Snipes his first major film role and his star rose to the level that he chose not to participate in the follow-up.
Goon
While "Slap Shot" did spawn two of its own canonical sequels, "Goon" could be considered the spiritual successor to the original hockey film that's more about beating people into the ice than beating them on it. When bumbling bar bouncer Doug Glatt (Seann William Scott) is victorious in an altercation with an away-team player in the stands at an extremely low-level minor league hockey game, it results in an offer to try out for the home team. Doug cannot skate, but he's not exactly getting the shot for his hockey skills; he's meant to be an enforcer, on hand to make sure the other team doesn't take any liberties with his teammates and to hand out beatings if they try to. Mentored by coach Rollie Hortense (Nicholas Campbell) and friend Pat (Jay Baruchel), Doug does well enough to earn a shot at playing on an NHL farm team, the Halifax Highlanders in Nova Scotia, Canada. There he's meant to watch the back of cocky-but-struggling superstar Xavier LaFlamme (Marc-André Grondin) for his initial coach's brother, Ronnie Hortense (Kim Coates), a task that will eventually lead to a showdown with veteran tough guy Ross Rhea (Liev Schreiber). In the meantime, Doug finds love interest Eva (Alison Pill), who's totally into the whole hockey violence thing.
In addition to appearing as Pat, Baruchel co-wrote "Goon" and helped to get it independently financed and produced. Despite positive critical reviews — "Goon" holds an 81% critics score on Rotten Tomatoes — it did not fare well at the box office. It did, however, garner enough interest for a sequel, "Goon: the Last of the Enforcers," Jay Baruchel's directorial debut.
Talladega Nights: The Ballad of Ricky Bobby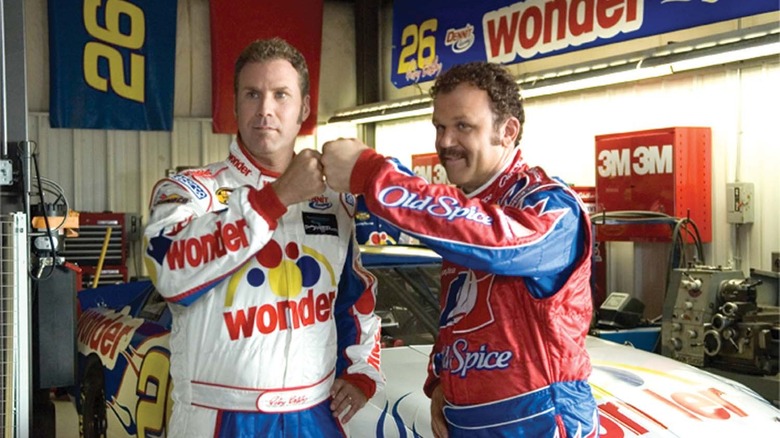 Sony Pictures Releasing
The 2006 NASCAR send-up "Talladega Nights: The Ballad of Ricky Bobby" features a silly premise and undeniably talented supporting ensemble cast, all that's really needed for any Will Ferrel vehicle to work. He stars as the title character, a pit crew member for the Dennit Racing team who one day decides to sub in for driver Terry Cheveaux (Adam McKay) at the Talladega Superspeedway, improving the team's position from dead last to a third-place finish. Owner Larry Dennit Sr. (Pat Hingle) keeps Ricky in the driver's seat and he goes on to win a bunch of races, with best friend Cal Naughton Jr. (John C. Reilly) soon becoming his teammate in a second car, forming a seemingly unstoppable tandem. Over the years Ricky grows complacent and his antics cause new owner Larry Dennit Jr. (Greg Germann) to bring in hotshot French driver Jean Girard (Sacha Baron Cohen), who soon smokes both of his teammates on the track. The younger Dennit fires Ricky and convinces his wife to leave him for Cal, igniting an admittedly slow-burning quest for redemption.
"Talladega Nights" served as the first outing for the comedic team-up of Ferrell and Reilly. The pair would go on to portray the titular duo in 2008's "Step Brothers," with Ferrell appearing as Brennan Huff and Reilly taking on the role of Dale Doback. A decade later, they worked together on "Holmes & Watson," with Ferrell in the role of Sherlock Holmes and Reilly playing Dr. John Watson in a silly take on Sir Arthur Conan Doyle's classic detective stories.
Fighting With My Family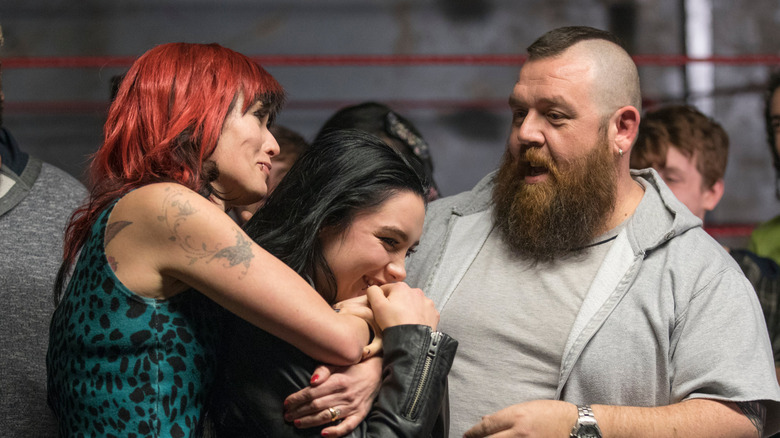 Metro-Goldwyn-Mayer
While "Cool Runnings" is a very loose adaptation of the story of the real-life Jamaican Bobsled Team, "Fighting with My Family" is both a sports comedy and biographical film — based on the 2012 documentary "The Wrestlers: Fighting with My Family" — about now-former professional wrestler Saraya-Jade Bevis, who rose to the top of World Wrestling Entertainment (WWE) competing under the ring name Paige. The film tells of Saraya-Jade's (Florence Pugh) humble beginnings, following in the footsteps of her parents, wrestlers Rick (Nick Frost) and Julia Knight (Lena Headey), with her brother Zak (Jack Lowden) trying to make it as well. While Saraya-Jade impresses enough in the pair's tryout to land a spot in WWE's developmental brand NXT, Zak does not. Now in Florida, wrestling as Paige, she struggles on multiple fronts, training with inexperienced women and unable to adapt to cutting scripted promos, given her off-the-cuff natural style. Dejected and with no one to support her, Saraya-Jade all but gives up on her dream until she receives inspiration — read: an absolute berating — from a familiar source.
While based on Saraya-Jade Bevis' real journey to stardom, "Fighting with My Family" does play fast and loose with the truth on a few fronts, though you'd be hard-pressed to find anyone surprised by that notion in the context of WWE biographical films. For starters, Dwayne "The Rock" Johnson — one of the film's producers — played absolutely zero role in her development. Additionally, Hutch Morgan (Vince Vaughn) is a fictional character, likely a composite of multiple people Saraya-Jade met in her journey to superstardom — a journey that included a lengthy reign as the NXT Women's Champion, something which the film omits.
The Sandlot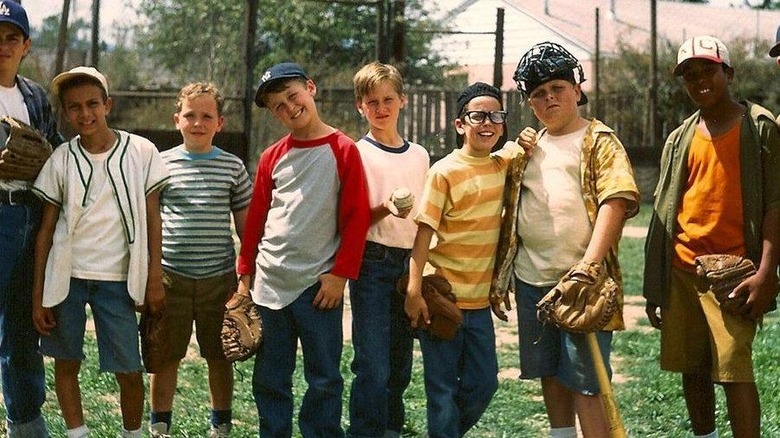 20th Century Fox
"The Sandlot" is a seminal sports comedy and coming-of-age tale all wrapped up in one, using baseball as a vehicle for the tale of Scott Smalls' (Tom Guiry) maturation as a young man. The newly relocated Scott isn't exactly athletically talented, but is invited to join a tight-knit group of local kids who play baseball in suburban California in the early '60s; though some of the kids are reluctant, group leader and best player Benny Rodriguez (Mike Vitar) also happens to the be nicest member of the wise-cracking bunch. When they're left without a ball one day, Scott tries to play the hero and grabs an autopgraphed ball his stepdad Bill (Denis Leary) keeps as a prized possession, which he then launches over the fence for his first home run. The problem is it land's in Mr. Mertle's (James Earl Jones) backyard and he owns a massive dog the boys have nicknamed "The Beast." Far from being excited, Scott is now consumed by dread; he may not have known the significance of the ball being signed by Babe Ruth — the others quickly fill him in — but he knows Bill treasured that ball. So the gang must devise a way to retrieve the ball, and many hilarious antics and plans ensue.
Nearly 30 years after its release, "The Sandlot" remains a popular cult film, with the quote "You're killing me, Smalls" enduring in the pop culture zeitgeist. After "The Sandlot," Mike Vitar joined another sports comedy franchise, appearing in "D2: The Mighty Ducks" as Luis Mendoza, with Brandon Quintin Adams — who played Kenny DeNunez in "The Sandlot" — reprising his role as Jessie Hall in the first "Mighty Ducks" sequel.
Kingpin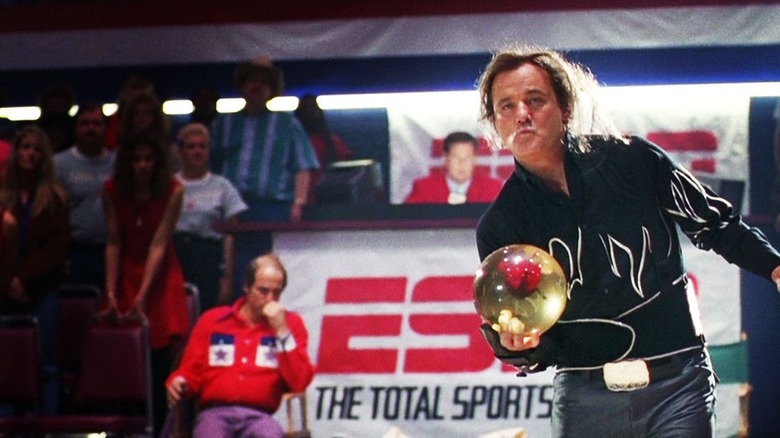 Metro-Goldwyn-Mayer
It's likely that only the warped minds of Peter and Bobby Farrelly could make the ridiculous redemption story of a one-handed former bowler guiding a promising young Amish prodigy work, but make it work they did and "Kingpin" is the result. Of course, it helps when you have the comedic talents of Randy Quaid, Woody Harrelson, and Bill Murray among your cast. "Kingpin" tells of local-boy-made-good Roy Munson (Harrelson), the Iowa state bowling champion who leaves small town Ocelot to become a professional bowler, defeating veteran Ernie McCracken (Murray) in his first outing. When wet-behind-the-ears Roy tries to hustle some amateur bowlers with Ernie, they shove his hand in the ball return and he's left with a hook. Years later, the jaded and disheveled Roy discovers Ishmael (Quaid), a raw but talented bowler from Amish country whom he tries to convince to compete in a tournament in Las Vegas to win $1 million and save his family's farm. Along the way they pick up Claudia (Vanessa Angel), the now-former arm candy of Stan (Rob Moran), her abusive boyfriend and a bowler Ishmael defeated to win them some seed money. As the dysfunctional group makes it way to Vegas, a showdown with Big Ern is on the horizon.
Often vulgar and crude, "Kingpin" was the Farrelly brothers' second feature film, after lowering the world's collective IQ with 1994's idiot classic "Dumb and Dumber." It features all of their penchant for low-brow and slapstick humor but, like any good Farrelly brothers film, has a heart of filthy gold at its center.
Tin Cup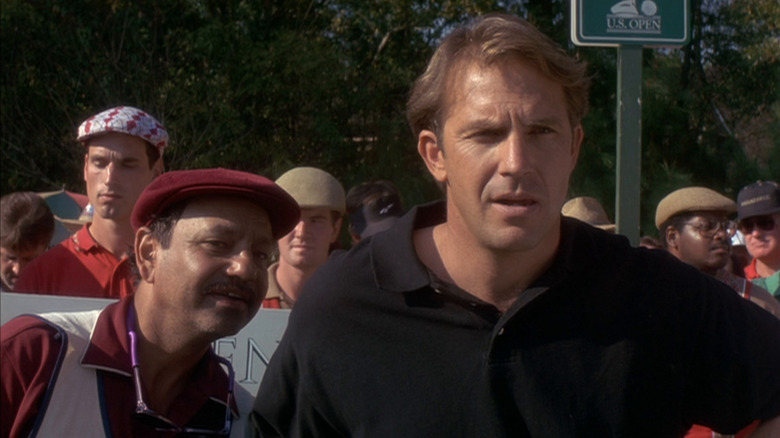 Warner Bros.
Yet another golf movie, and another rom-com to boot, "Tin Cup" tells the love story of local driving range owner and golf tutor Roy "Tin Cup" McAvoy (Kevin Costner) in a scraggly West Texas town. Daily life consists of drinking beers with buddy Romeo Posar (Cheech Marin) and their friend group, telling tales of Roy's small-time glory days and other carrying on. That is, until Dr. Molly Griswold (Rene Russo) enters his life; she's looking for golf lessons and arrives with all manner of silly gadget. Roy disabuses her of the usefulness of these trendy pieces of junk and he begins seeing her as a therapy patient, though it's clear he's falling in love with her. The problem is, she's dating David Simms (Don Johnson), a smug and detestable pro golfer who's nasty to kids and the elderly, though Molly hasn't yet seen that side of him. David shows up one day looking to hire Roy to caddy for him at a local course with which he's familiar. Things end poorly for the former college rivals, with David firing Roy for showing him up on the links. Roy is then determined to win the U.S Open and Molly's heart, not necessarily in that order, with Romeo as his caddy.
"Tin Cup" sees Costner reunite with "Bull Durham" writer-director Ron Shelton, who also co-wrote and helmed the film. Though not as revered as their first outing, the movie benefits greatly from Costner's endless charm and the comedic chemistry between the rest of the main cast.
The Waterboy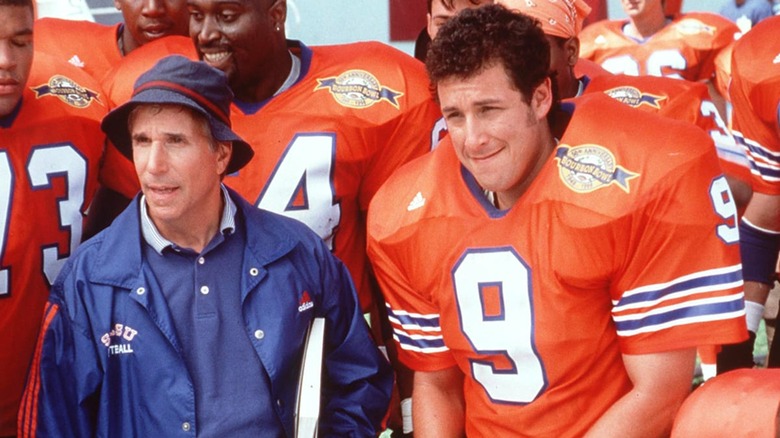 Buena Vista Pictures
Eminently quotable football film "The Waterboy" tells of Bobby Boucher's (Adam Sandler) rise from being a disrespected and abused 30-something water boy for the University of Louisiana Cougars — a position he's held since his youth — to a mean, hard-tackling linebacker for an opposing school. The subject of constant bullying by the Cougars players, Bobby is eventually fired. He then offers to serve as water boy for the lowly and fictional South Central Louisiana State Mud Dogs for Mr. Coach Klein (Henry Winkler), though he's subject to much abuse from his new team as well. When Coach Klein tells Bobby he needs to stick up for himself, he absolutely snaps at the next insult he receives, tackling quarterback Gee Grenouille (Peter Dante) and knocking him out. Coach Klein then convinces Bobby to play for the Mud Dogs, behind the back of his over-protective mother, Helen (Kathy Bates), who hovers over her son after he former husband left them for life in the big city of New Orleans, unbeknownst to Bobby himself. Armed with his explosive new weapon, Coach Klein guides the Mud Dogs to the also-fictional Bourbon Bowl and a showdown with the Cougars, still coached by his old nemesis Red Beaulieu (Jerry Reed).
Admittedly, "The Waterboy" is a sentimental honorable mention in this list. Though beloved by viewers, it was panned by critics, as evidenced by the disparity between its 71% audience score and 34% critics score on review aggregator Rotten Tomatoes. Though the movie does have its flaws, it's also overflowing with heart and features Sandler near the top of his late '90s run of hilarity.
A League of Their Own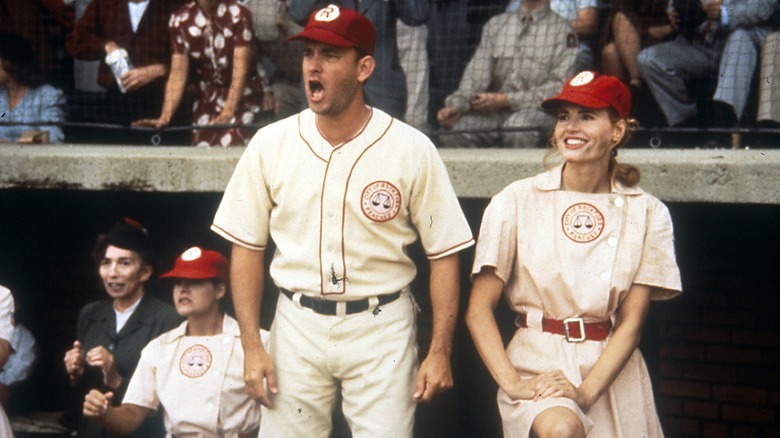 Columbia Pictures
The now-classic "A League of Their Own" is another sports comedy film that tells a fictionalized tale with roots in real life history. The All-American Girls Professional Baseball League is formed during WWII, conceptualized to serves as a sports distraction from the war and a way for Major League Baseball's team owners to put together another product while their players are subject to the draft. League manager Ira Lowenstein (David Strathairn) is a true believer and he assembles four teams, one of which is the Rockford Peaches, featuring sisters Dottie Hinson (Geena Davis) at catcher and Kit Keller (Lori Petty) pitching, in addition to colorful Mae Mordabito (Madonna) in center field and her gruff pal Doris Murphy (Rosie O'Donnell) at third base. The team is saddled with manager Jimmy Dugan (Tom Hanks), a washed-up, alcoholic former player who's of no use, which prompts Dottie to do his job until he one day sobers up and realizes he's surrounded by a talented group of baseball players. The Peaches lead the league, though a growing rivalry between Dottie and Kit results in the latter being traded to the rival Racine Bells.
Much of "A league of Their Own" is shown in a flashback, with the present-day scenes showing the former players reuniting for the opening of the real-life AAGPBL exhibit at the Baseball Hall of Fame book-ending much of the narrative. The film was spun off into a short lived series of the same name in 1993; Amazon gave the green light to another "A League of Their Own" series in 2020.
Mean Machine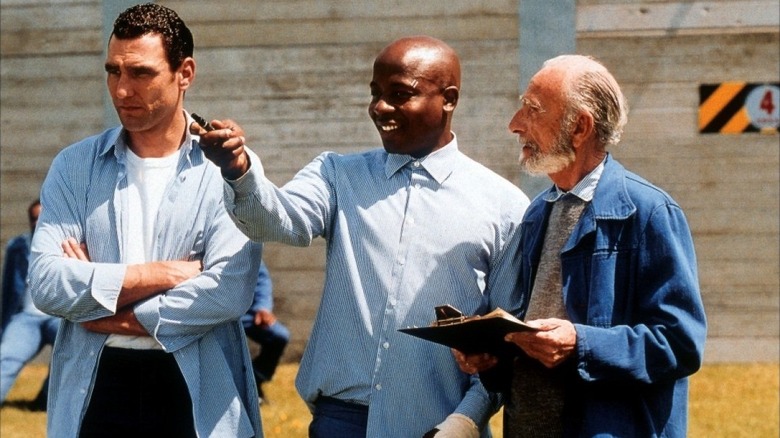 Paramount Pictures
"The Longest Yard" was such a beloved sports comedy that, in addition to the 2005 Adam Sandler remake, it inspired a soccer adaptation in the form of 2001's "Mean Machine." Much like Paul Crewe in the American original, Danny Meehan (Vinnie Jones) is a disgraced former English soccer captain who's been banned from the sport for fixing a match; a drunk driving episode and the resulting assault on the arresting police officers lands him in Longmarsh prison, where the institution's governor (David Hemmings) wants him to coach his squad comprised of guards. Meehan, nicknamed "The Mean Machine" during his time on the pitch, pivots the offer, convincing his warden to allow him to train a team of inmates to face off against the guards team. 
The rest of it plays out very much in the way you'd expect a retread to do. "Mean Machine" is recognized here not for its critical reception but for how beloved it is by viewers. Much in the way reviewers were unkind to "The Waterboy" but audiences loved the film, "Mean Machine" manages a nearly identical 34% critics score and 72% audience score on Rotten Tomatoes. Perhaps the love it receives from fans comes from the film's cast, which serves as a reunion for several of the actors who appeared in the popular Guy Ritchie films "Snatch" and "Lock, Stock, and Two Smoking Barrels." Jones — a real-life former soccer player — Jason Statham, Robbie Gee, Adam Fogerty, Jason Flemyng, and Vas Blackwood all feature in "Mean Machine." 
I, Tonya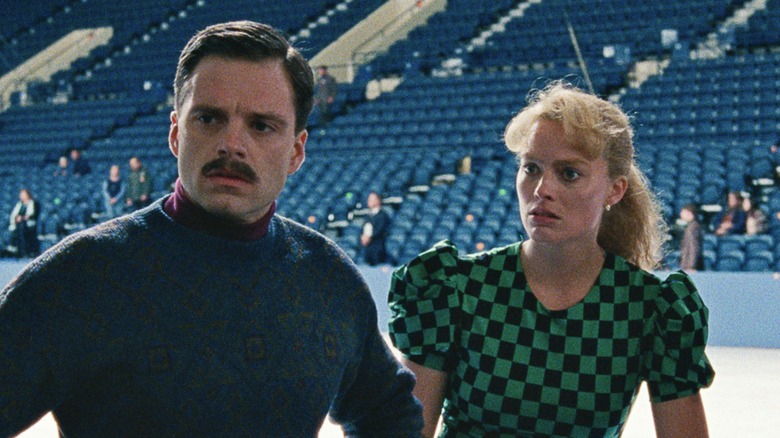 Neon
We couldn't round up the best sports comedies without including the darkly comedic "I, Tonya," which tells of the rise of controversial figure skate Tonya Harding (Margot Robbie) from a childhood prodigy to her potential involvement in the 1994 attack on rival Nancy Kerrigan (Caitlin Carver) — an attack orchestrated by her ex-husband, Jeff Gillooly (Sebastian Stan) and bodyguard Shawn Eckardt (Paul Walter Hauser). The film presents Harding's life as a series of dysfunctional and abusive relationships, in addition to the scorn and disrespect she's shown by the figure skating world as a whole because she doesn't come from money and made no efforts to conform to its standards for decorum and pageantry. Given how the film presents Harding's relationship with her mother LaVona Golden (Allison Janney), it's not surprise she becomes trapped in the vicious cycle with Gillooly.
Funny as it is, we understand that "I, Tonya" stretches the definitions of both "sports movie" and "comedy." Each actor offered incredible performances in their respective roles, with Hauser's turn as the bumbling, cartoonish Eckardt perhaps bringing the most laughs. After seeing multiple documentaries about the 1994 attack, writer Steven Rogers arranged separate interviews with both Harding and Gillooly, noting that they offered differing accounts of the way events unfolded. "Well, that's my way in — to put everyone's point of view out there, and then let the audience decide," Rogers said during a panel for the SAG-AFTRA Foundation. In a separate Q&A for the SAG-AFTRA Foundation, Harding revealed she was initially unaware the movie was based on true events and later went to meet Harding in order to prepare for the role.
The Bad News Bears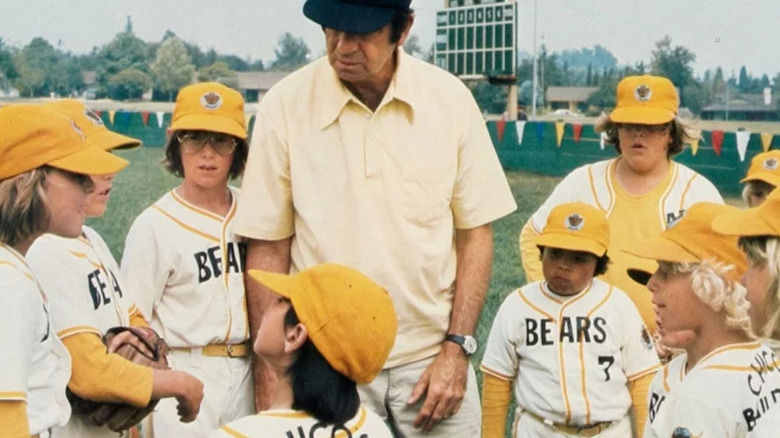 Paramount Pictures
Closing out our list is another classic baseball comedy, "The Bad News Bears." The film features late screen legend Walter Matthau as Morris Buttermaker, a former minor-league baseball player who's now a bit of a drunk. Buttermaker is recruited to lead a team of castoffs in a youth league in California, a squad comprised of the players in whom none of the other, more competitive teams had any interest. The very first game makes it clear why they didn't want these kids on their team: they allow the opposing team to rack up an insane 26 runs against them without recording an out — the equivalent of turning over a major league roster nearly three times — prompting Buttermaker to forfeit the game and stop the figurative bleeding. Thinking outside the box, he recruits an 11-year-old girl named Amanda Wurlitzer (Tatum O'Neal) and a juvenile delinquent named Kelly Leak (Jackie Earle Haley) to join the team. When the Bears find success, Buttermaker finds himself too focused on winning, an epiphany he has that changes his mentality during the championship game.
"The Bad News Bears" is a candid, brash comedy full of invective and some crude humor and behavior. It also doesn't pull any punches with its message, as sussed out by legendary film critic Roger Ebert. "It's an unblinking, scathing look at competition in American society – and because the competitors in this case are Little Leaguers, the movie has passages that are very disturbing," he wrote for the Chicago Sun-Times (via archive.org).